First of all, I want to tell you again that I'm very sorry for being offline for two days.
I think, most of my followers guessed that I could not miss the Oscar ceremony. I was actually making a huge Oscar winners review when bad news came.
French actress and 1950s cinematic icon Annie Girardot died peacefully in Paris on Monday after a long battle with Alzheimer's disease, her family said. She was 79.
I will not tell much, but this is a big loss for me and for the world of cinema. This is why I decided not to publish my Oscar thoughts and devote totady's post to this great woman's memory.
My todays recommendation is a wonderful masterpiece I watched about three years ago. Unfortunately I don't know about English version as I watched it with subtitles, but I recommend you to do your best and watch this film.
Original movie title: À chacun son enfer
Year: 1977
Genre: Drama, Mystery
Director: André Cayatte
Writers: André Cayatte (screenplay), André Cayatte (story)
Stars: Annie Girardot, Hardy Krüger and Bernard Fresson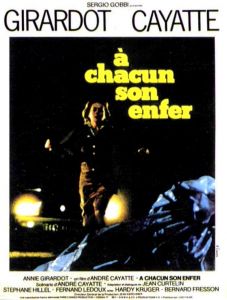 When her 10-year-old daughter is killed by kidnappers, Madeleine (Annie Girardot) goes a little nuts. However, she is fully able to continue investigating what went wrong, despite badgering by news reporters and curious neighbors. Her 19-year-old son has behaved strangely throughout the whole ordeal, and eventually she confronts him.
Found no trailer, sorry
Enjoy watching!